Vi kommer snart att få se ytterligare ett av våra nyförvärv på planen, Xherdan Shaqiri är inte långt ifrån att göra sin matchdebut i vår röda tröja. För att få en klar bild av vad det är för spelare vi värvat kontaktade vi någon som sett honom vecka ut och vecka in i några år nu, nämligen Adam Hindhaugh(@stokieadam), trogen Stoke-supporter. Här berättar han om hur schweizarens tid i klubben sett ut och hur han ser på övergången till oss: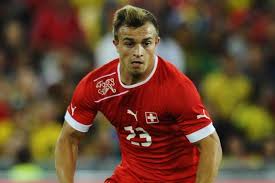 1. How would you describe Shaqiri as a player? Strenghts/weaknesses.
Shaqiri on his day is undoubtedly a special talent. His left foot is superb and one of the key strengths to his game is his ability to pick a pass and put the ball on a six pence. Last season was Shaqiri's best season for Stoke as he ended up being Stoke's leading scorer and created the most chances and assists out of the all of the side and his stats were up there with the best in the division. Unfortunately, for Shaqiri, this season was also Stoke's worst and therefore he probably didn't end up getting the recognition he deserved as the season was woeful. Some supporters lost patience with Shaqiri towards the end of the season as it appeared that he was 'arguing' on the pitch with team mates, getting frustrated and not tracking back or defending as a team.
As the season went on, tensions were high and the pressure was on. Shaqiri became frustrated at the lack of quality around him in my opinion and in the end he couldn't drag the team out of the mess on his own. Shaqiri isn't a player who will necessarily track back or defend and nor should he be either. Shaqiri cannot influence a game when he is defending on the edge of his own penalty area.

2. In what role has Shaqiri been used by Stoke?
For large parts of his time at Stoke, Shaq played on the right hand side of the midfield. His best times came during a great spell alongside Arnautovic and Bojan where the 3 of them destroyed Man Utd and Man City to name but a few. The interchangeable passing and movement of these 3 were superb and we saw the best football from a Stoke team in many years. Shaqiri needs to be on the ball so I believe his best position is inside where he has access to the ball rather than being out wide waiting for the ball to come to him.

3. Do you think Shaqiri will be a good signing for Liverpool?
I think the move is an interesting one for Shaqiri as its clear he won't be in ahead of Mane, Firmino or Salah and I cannot see him playing behind either of those unless its in a home game where Liverpool will see plenty of the ball and he has 2 holding midfielders behind him. Therefore, its likely he will have to spend a lot of the time on the bench and as a sub. Shaqiri has been plagued by many injuries in the past particularly with his calf and I wonder whether a stop start career at Anfield will be beneficial for this.
4. Stoke were relegated last season, what has happened so far during silly season? How do you rate your chances to return to Premier League next season?
Stoke need to make a quick return to the Premier League and we have started to address the weaknesses in the squad from last season. A few seasons of under investment in the PL and some poor managerial acquisitions resulted in us being relegated. We have so far snapped up a proven championship goalscorer and secured the services of a very athletic midfielder in Etebo. Maintaining the services of some key players at this level is also pivotal in the likes of Butland, Bauer, Shawcross, Indi and Allen as well as welcoming back players like Bojan should be enough to see us go back up at the first attempt. A few more additions in the wide areas and getting rid of some 'dead wood' should bring the feel good factor back to the Bet 365 next season.