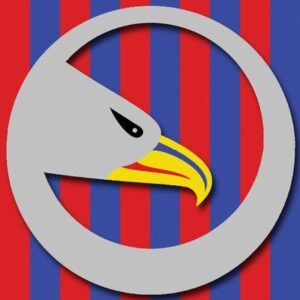 Till helgen är det dags för oss att möta Crystal Palace, ett lag som för tillfället placerar sig strax bakom oss i tabellen, med sexton inspelade poäng. För att få en inblick i hur deras säsongstart varit kontaktade vi på Totaal Liverpool Palace-supportern Jay, skribent på theeaglesbeak.com och frekvent deltagare i den mycket underhållande podcasten EPL Round table, och ställde några frågor kring laget.
1. Tell us about the season so far, are you satisfied with your team?
We have had a great start to the season but have hit a bit of a rough patch.
However, having managed 16 points after the first eleven games has been
better than we expected. After we play LIverpool that will be all of last
seasons top six teams faced in the opening twelve games which is a tough
schedule but we have come through it well. At the same time, we have
struggled with injuries, the like of which we have not seen since returning
to the Premier League. Selling Glenn Murray on deadline day and then Connor
Wickham gets an injury has arguably effected us with Marouane Chamakh
already out. In saying that, sitting in tenth is something to work on. As
for the squad, it is probably the best set of players I have seen assembled
at the club but always room for improvement and no doubt we will seek
additions in January.
2. Which players has impressed for you this season?
Yohan Cabaye, without doubt. Clearly our marquee signing of the summer and
one that raised a lot of eyebrows, including Palace fans. Finishing how we
have in our first two season back in the top division made us all wonder
what do we do next and questions were asked of the club in terms of how they
saw the club going forward. Then came the Cabaye signing which just showed
the owners and management mean business. Obviously, Pardew had a lot to do
with him coming to the club but he was not getting first team football at
PSG and needed that to be involved in the France squad for the European
Championships next summer in his own country. Many knew the talent that
Cabaye had but few realised quote how tenatious he was on the pitch. He
works hard and is as tough in the tackle as he is talented. He has become
the main man in the Palace team and that touch of class that we have been
striving for. Long may it continue.
3. How would you describe Crystal Palace 2015/16? Strenghts/weaknesses
Excellent. To finish in the top ten was an incredible achievement
considering that we started the season without a manager after Tony Pulis
walked out two days before the opening game. Our strength was clearly
playing away from home, it just suited our style of play. Our real achilles
heel was our home form. We struggled to break teams down that came to
defend. I could name several games that were great examples of that –
Sunderland, Villa, West Brom and Hull all came to South London and went home
with all three points which were all horrible to watch. Makes you wonder how
high we could have finished if our home form was slightly better.
4. Name three key players for Crystal Palace in the game against Liverpool
Yohan Cabaye for the reasons I mentioned above. Dwight Gayle as he always
seems to score against Liverpool. Scott Dann is our rock at the heart of the
defence who amazingly has yet to receive an England call up.
5. What are your thoughts of Liverpool sacking Brendan Rodgers and
appointing Jurgen Klopp?
My only surprise was that it did not happen in the summer to allow a manager
to get settled and bring in how own team and players. Last season said a lot
about Liverpool and the team that were playing under Rodgers. The defeat at
Stoke at the end of last season should have been the final straw but I do
feel for him in a way as the sale of Luis Suarez was always going to be key
to his success or failure. Keeping such a striker would likely have made
things a lot different but the fact remains that he did not replace him even
though it was a difficult task.
6. As a Liverpool-fan I always fear Dwight Gayle, how is his form nowadays?
He has fought his way into the team this season which is more to do with
injuries more than anything else. There were rumours that he was on his way
out of the club before the end of the transfer window but thankfully that
did not materialise and it was Glenn Murray that was sold. The sending off
against West Ham apart, he has done okay, much better as the lone striker
against United at the weekend but it is not his natural game. It has been
said so many times that he would be much better playing alongside another
striker which is a real shame as it is not a formation we play. As soon as
Connor Wickham returns I envisage him returning to the starting line up.
7. Finally, how is Martin Kelly doing?
He seems to divide the fans playing as a full back but for me
he is really a centre back. The injury that he had in his time at Liverpool
really restricts him as a full back and made him less mobile. His
performance towards the end of last season at Anfield he played centre back
and proved it is the position for him. Perhaps in time but he will not be a
choice ahead of Dann, Delaney or Hangeland for now. His lack of mobility can
be a problem at times but he always puts in the effort. A good honest
professional who I hope will find his way to his true position.