Vi fortsätter att lära oss om helgens FA-cupmotståndare, Shrewsbury Town FC. Glyn Price är med och gör Blue & amber fanzine(@B_and_A_Fanzine), han är även med i podcasten Salopcast(@Salopcast). Podcasten är även den med och bidrar med information här, så här kommer allt ni behöver veta om Shrewsbury Town: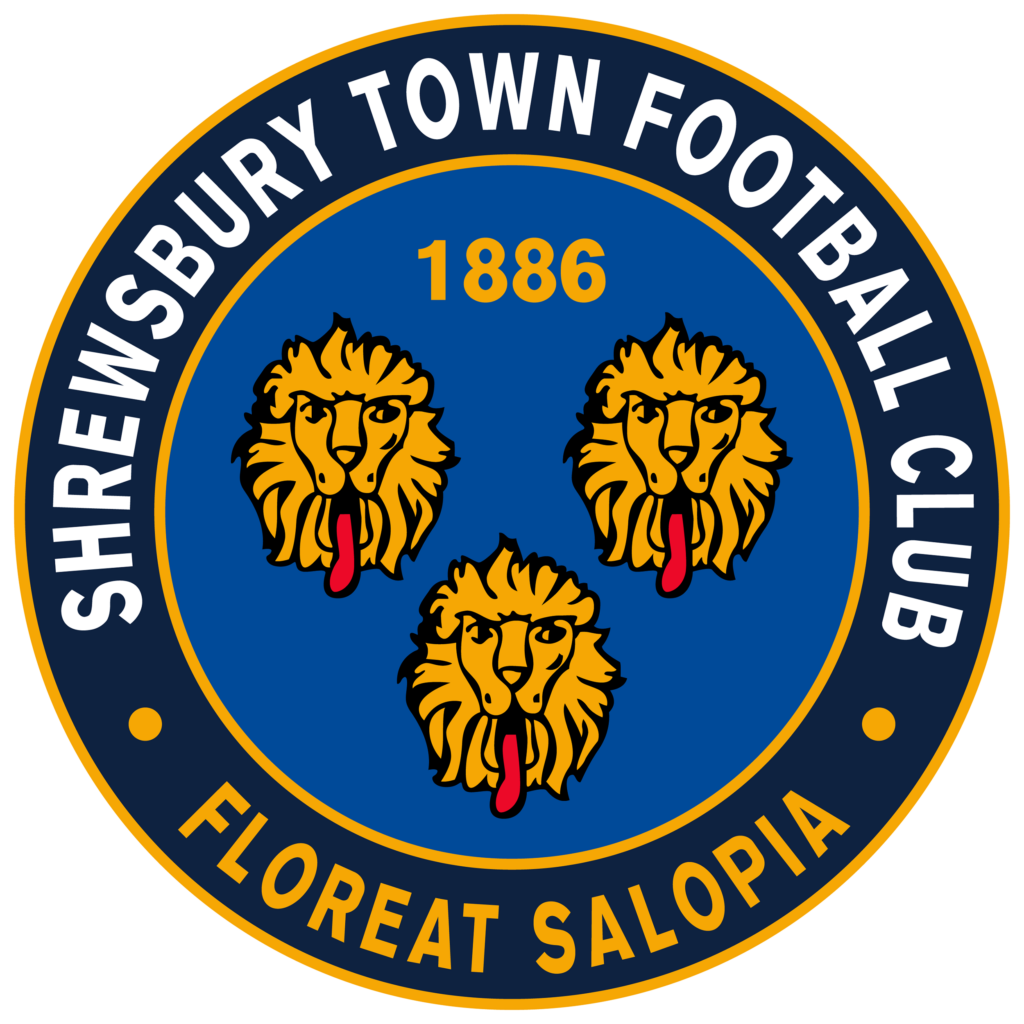 1.Tell us a bit about your club, what do we need to know about Shrewsbury?
GP: We are a well run, financially solvent club on the border of Wales and England, but firmly IN England. Since getting relegated out of the football league in 2002/03 we have been on an upward trajectory, first stabilising in league two before becoming one of the better team in that division reaching play off finals and then finally getting promotion to League One. After a few years of yo yoing up and down the divisions we are now established in League one and with aspirations one day of the Champiopnship. We have a new stadium opened in 2007 which now feels like home and Shrewsbury itself is a nice little medieval town which as one of the best places to live in England. Fact.
S: Shrewsbury Town are a well run League One team playing at our 'natural' level in League One. In the last twenty years we have been as low as the Conference with the majority of the time spend in League Two. More recently we are establishing ourselves as a League One team. During the 80's we played in the Championship and our biggest scalp was beating David Moyes Everton in the FA Cup
2. How has this season been for Shrewsbury so far?
GP: Up and Down. We started well, then dropped off before getting back just before Christmas to 4 points from the playoffs. But since then in the League we have not won in 5 following a disappointing 2-2 at Fleetwood on Saturday where we led until very late. Aside from the league the FA cup has once again been a magic trip, capped off by Arron Pierre's late winner vs Bristol Cty which is a night, and goal that has gone down in Shrewsbury Town folk law already!
S: As with any team finding themselves in mid table, we have won some, lost some and drawn some. The majority of our fans are happy with our mid table status, but given the league is so tightly stacked, we are still dreaming of a run to the playoffs
3. How would you describe the way you play?
GP: VERY VERY VERY VERY VERY VERY Defensive. I cant express how defensive we are. We play 3 Centre backs with wing back who try to get forward. We hardly ever had shits on goal, are the 2nd lowest scorers in the division and 3rd lowest in the whole football league. Its not that entertaining to watch. But credit where credit is due we do keep a lot of clean sheets have been wonderful defensively this season with a solid keeper and three unreal centre backs. If we could get the forward and midfielder players to play a little more expansive and click then there is still a shit of the playoffs but this recent poor run where we recorded a game with NO shots on target for about the first time in five years might have ruined that. A lot of town fans would say this season we are boring to watch.
S: We are a defensive team, our best results have come playing against teams expecting to beat us, allowing us to sit deep and play on the counterattack. We have beaten Sunderland and Portsmouth at home, as well as earning a well-deserved 1-0 victory away against Blackpool who had a particularly good home record at the time. Our most common formation has been 3-4-3 but we have also played with two strikers. I expect we will play 3-4-3 with our wide front men helping defend against your full backs or central midfielders drifting wide.
4. Which players are most important to your team?
GP: The Defenders, Particularly Arron Pierre and Ethan Ebanks Landell who have been nothing short of magnificent this season. Man mountains of players they but heart body and sole into every header and tackle and its exactly what our fans love. In the attacking positions, even though he's not played that much for various reasons I truly belive that Jason Cummings is a wonderfully talented player we have not got anywhere near enough out of, and a game vs Liverpool might be the one to get him back on a big stage. Loanee Callum Lang is another big player for us, who's just back from injury and could be a difference maker for us. Holds it up well, never gives up and can finish.
S: One of our key players is our captain Ollie Norburn, a box to box midfielder who is our record signing from Tranmere Rovers. In defence Aaron Pierre is a central defender earning rave reviews, he is strong, fast and good in one on one duals. His strike in the replay against Bristol Rovers earned us the tie against Liverpool. In attack Liverpudlian Shaun Whalley scored and assisted on the weekend against Fleetwood, he is one of the best dribblers in the League and plays on the right side of our front three
5. Are there any young, promising players in your squad that we might see in the Premier League in the future?
GP: Well we had Dean Henderson and Ben Godfrey for a season a couple of years back who have gone on to do well so you look at the quality loan players we have again who might go back and get games in the premership. Two spring to mind. The first is Max Oleary who is on loan from Bristol City. He is an excellent keeper who might not be at Hendersons level but could go a very long way. The second is a player we just had recalled to Wolves and went from our starting line up to being on the bench for Wolves vs Southampton last Saturday, Ryan Gilles. He's a great little wing back and one to keep an eye on. The only home grown player have in the first team set up regually is Ryan Sears and its too early to tell where his ceiling lies.
S: Right now, I don't expect to see any of our players reaching the Premier League. Historically we have a decent record at producing young players, Joe Hart and Dave Edwards who played for Wolves in the Premier League plus Andre Gray at Watford came through our youth system. More recently Conor Goldson is a graduate of our academy and is currently playing in central defence for Steven Gerrards' Rangers side, with Ryan Woods and Tom Bradshaw both playing for Millwall. At the moment the best prospect is Max O'Leary who is on loan from Bristol City. Two years ago we had Dean Henderson and Ben Godfrey on loan, we are becoming a preferred destination for young talent
6. Tell us a bit about your way up to this game in the FA-cup.
GP: Round one beat a stubborn Bradford in a replay at Valley Parade. Second round was a rotine victory over Mansfield at home. 3rd round we held Championship Bristol City at Ashton gate in a game we should have won. The replay at home was a great night, and we matched them again before winning it dramatically late on. A very good gritty performance and a magic goal to win it.
S: Our opponents in first round of the FA Cup were League Two Bradford. After a 1-1 draw at home, we went away and won 1-0. Next up was Mansfield who were struggling in League Two and we won in a comfortable 2-0 home victory. In the third round we were paired with Bristol City. We deserved to win at Ashton Gate but were held 1-1 after conceding from a corner. In the replay we won 1-0 in the 89th minute after Aaron Pierre struck a wonderful strike from outside of the box
7. What are your expectations on the game against Liverpool?
GP: Well as the co host of the Shrewsbury Town podcast "Salopcast" we have this week been speaking to some of the Liverpool fan media including the this is Anfield podcast. There predictions of the team we might face, even the weakened team leaves me more than worried.
based on previous games vs the biggest teams we have had over recent years in cup competitions, we have never shipped an absolute load of goals, and it seems likely that will be the case with the defensive tactic we play.
S: That is dependent on the side Klopp selects. If Liverpool were to play their best XI, I expect it would end in carnage and potentially double figures. At the other end of the scale if we see the same side that beat Everton, we have a chance, even if the odds are stacked against us. However I can't see past a Liverpool win.