Det har gått några månader sedan Steven Gerrard skrev på som tränare för Glasgow Rangers FC och vi kände att det var dags att ta en titt på hur han skött sig hittills. För att få en inblick i Captain Fantastics tränarkarriär kontaktade vi Jim Anyman(@BrownBorgues) som är skribent på fansiten Gersnet och under sitt alias flitigt diskuterande klubben på fansiten Follow Follow. Här kan ni läsa vad han hade att berättar om säsongsstarten: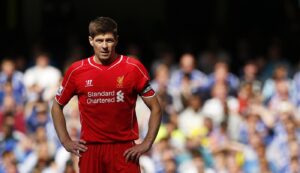 1. Tell us a bit about the start of the season, are you satisfied with the team´s performances so far?
I would start by saying the task facing Gerrard was massive. We made some really poor recruitment decisions last year under the previous Manager, and Gerrard along with Our Director of Football and Scout Chief Andy Scoulding had to overhaul an entire Team within a few weeks, and to gel them as a Team before the Europa Qaulifiers came around. Considering we have now gone "11" unbeaten in the Europa and are still in the mix at the top of the table, and the time of answering your question are 90 Mins away from a Cup Final! The start has been astonishing. Yes there have been a few blips like late goals that have cost us a win, and we didn't give a good account of ourselves in the match away to Celtic, but I would have taken this position in all competitions at this stage before a ball was kicked.

2. How would you describe the way Steven Gerrard wants your team to play?
Stevie said he wanted to bring Klopp's style of exciting football to Rangers. It was no suprise to see us set up with 3 in attack. He wants us to press hard and be aggressive. We have been patchy at times, but when we get it right, we are very good and exciting to watch. Morelos and Candeias are Players Gerrard inherited, and as they are both full of energy and press hard they have really seen the benefits of the system. The Core Gerrard brought in of McGregor, Goldson, Coulibaly really gave us a spine to handle the physical game in Scotland, and why we have ground out some good away results in Europe. The most exciting thing is Gerrard still sees us nowhere near the level he wants us to be at.

3. How do you rate Gerrard´s time at your club so far?
As a Man he oozes class in the way he conducts himself. He is media savy and in the goldfish bowl of Glasgow you need to stick up for yourself or the Press will walk all over you and critique your every word. Gerrard doesn't entertain stupid questions, he tells it how it is. I think it is that bold honesty that also goes well with the Players and why we are doing so well. It's his first job in Management at massive Club where there is pressure to win every game. But Stevie also puts that same pressure on himself, as he has his while career. To sum it up best he was born with a winners medal around his neck, that's not going to stop with him retiring from playing silverware for the Club under Gerrard is a when and not an if. We love the man because of his winners mentality, so do the Players, but what a role model for any player, Istanbul anyone?

4. You have two Liverpool-players on loan, what are your thoughts on Ovie Ejaria and Ryan Kent?
Ryan Kent is an easy answer, the Lads and enigma. Rangers Fans love to be entertained by Wingers beating Players. We have had some of the best in the world over the years. Kent is already showing he can be up there with the best. Naturally two footed, direct. He is one of the most unselfish Players I have seen. He works hard for the Team and is always looking to see what is on around him before taking it on himself. He has a very bright future and I am happy for him after some difficult loans splv and people beginning to doubt his ability. We are a match made in heaven as we have given him a platform to go show it in Europe he has it all. Liverpool are lucky to have him under a new long term deal as right now I would give you 10 toes and Fingers to keep him. Ovie, similar to Kent came in off for the back of a disappointing previous loan, at first it looked like he was going to struggle but as his confidence has grown he has put in some wonderful performances, nobody can get the ball off him, I sometime wish we would play through him more as he wants to dictate play at times and play 1-2's. He will continue to get better wish games, but he can hold his head high for what he has done for the Team so far. He is again another very talented Lad.

5. Rangers are doing really well in Europa League, how satiesfied are you to back in the european competition?
Yes Gerrard has bettered a previous Country record held since 92/93 that was also set by Rangers under Walter Smith. Our Club was made for Europe there is no atmosphere more special in football Ibrox on a European night, it is electric.

6. Do you think Rangers will strenghten in january? Any rumours of players coming in?
Has been rumours we may try to bring Steven Davis back to the Club from Southampton. He has fallen down the pecking order, but he is a great Player and leader so I hope that rumour is true. If Dom Solanke still struggles for game time at Liverpool, I can see Gerrard trying again for him. I know Kopp was reluctant to grant any loan on Solanke to any Club in the summer but intends to revisit that position in January. Liverpool can clearly see the benefits of sending any players to Rangers as it is clear Kent and Ejaria's careers are back on course after loan spells at Clubs where it never really worked out. So we will see if something happens there. We have a good sqaud who have a lot more to offer so I don't see many coming in.