Namn: Marko Grujic
Utlånad till: Cardiff City i Championship
Statistik: 12 matcher. 1 mål, 0 assist, 4 gula kort.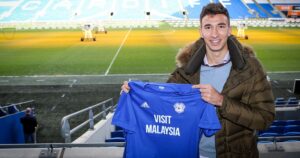 Supporterns åsikt:
Cardiff-supportern Oliver Cassidy(@Olliebluebirds) ställer än en gång upp för oss och berättar om hur de senaste månaderna varit för Grujic:
1. How has the season been for Cardiff since Grujic signed in January?
Grujic came in a difficult time during the season. We started fantastic but by the new year, we had lost 4 games in a row and automatic promotion seemed over. However since he has joined, we have pushed for automatic promotion and narrowly missed out on a 71 year old record 9th successive win. We are now only two wins away from the Premier League and Grujic has paid a massive contribution towards that.
2. Grujic played a lot from the start in Cardiff, but that had changed a bit lately. How would you sum up the time he's been with you so far?
Grujic was mainly brought in to freshen our injury stricken midfield and in particular Aron Gunnarsson. We have played a lot of Saturday games followed by a Tuesday night game including tomorrow. Grujic's form has been good but Gunnarsson has returned to the first team and scored a vital goal against Nottingham Forest on Saturday. Fans want Grujic to play more as we control the midfield better with him in the team
3. Has he improved anything since he first arrived?
His discipline has improved massively. When he first came into the team, he was giving away needless fouls resulting in yellow cards. Our manager, Neil Warnock doesn't like risking players on yellow cards so he was usually subbed off on the hour mark. Now, though he is a much more disciplined midfielder with the odd goal and is now not known for his aggression.
4. Where do you think we will see Grujic next season, LFC or out on loan?
Grujic can definitely fit into the Liverpool first team. Especially with Emre Can leaving. I personally feel that Klopp will not use him but if he doesn't get used. Fans in South Wales would certainly welcome him back!