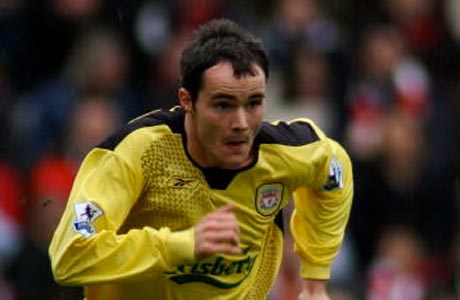 Ytterbackspositionen i Liverpool har varit omdiskuterad under i stort sett hela 2000-talet, det är många spelare som försökt imponera och göra platsen till sin. En spelare som jobbade för det under sina år i Liverpool var David Raven(@davidraven131), han kom till klubben redan som 14-åring och gjorde resan genom ungdomslagen upp till a-laget. 2006 lämnade han dock Liverpool och kommer närmast från en halv säsong med Wrexham, mitt i en hektisk period tog han sig dock tid att svara på några frågor från oss på Totaal Liverpool.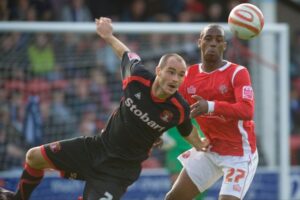 1. Born in Merseyside, was Liverpool your team growing up?
My team was always Liverpool yet I often watched Tranmere as they were more local to me.

2. You played for Tranmere as a youth, what was your first contact with Liverpool?
Liverpool contacted me when I was 14 playing for the local school team and I signed from then.

3. What was it like being promoted to Melwood?
When I was promoted to melwood it was a dream for me, I was going slightly stale at the academy and they recognised this and gave me a new challenge.

4. Rafa Benitez was the manager during your time at the club, how was he?
Rafa was good with me, he gave me a chance and a new contract I just couldn't do enough to convince him to play me regularly although there was no strength in depth at right back at the time.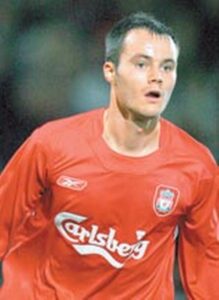 5. Your debut for Liverpool where a MOTM-performance against Spurs in the league cup, what do you remember from that game? You made one game in Premier League, as a substitute for Sami Hyypiä, can you describe how it felt?
I remember my debut being very nervous to start with then really enjoying myself it's one of my proudest achievements and one I'll never forget. Getting on at Southampton in the premier league was great too, although we were losing and ultimately lost it was still a great experience for me to play on the same pitch as these players. I went on right back and straight away peter crouch was sent out wide for big diagonals!
6. Both Steven Gerrard and Jamie Carragher where in the squad during your time at the club, how where they in training?
Steven gerrard was head and shoulders above everyone, frightening really, best I've ever seen. He was a good guy off the pitch too, Jamie carragher was also good with me as a defender, he was a hard worker.
7. Istanbul 2005, you where there with the team, what was it like?
Istanbul was incredible to be part of, although I was more of a fan, I didn't really contribute on the pitch so I was along for the ride. To get on the podium after was amazing.
8. You left Liverpool in 2006, was that a hard decision? You had a successful spell in Scotland after leaving Tranmere in 2012, how high do you rate the cup title with Inverness?
It wasn't a hard decision to leave I knew I had to to get a career in the game or it would be too late, turned out to be a right decision. I rate the cup win with Inverness up there with my Liverpool debut, I really get I earned it and the feeling of the win was the best I've ever had. It's a shame how the club is now I loved the place.
9. What is your relationship with Liverpool today?
I recently went into the academy as I want to get into coaching and had a day visit, it was nice to see old faces and have a chat, the place has changed a lot so much more staff there now. I've stayed in touch with alex the academy director and another dream would be to coach there one day at any level.