Efter lördagens galna drabbning mot Arsenal ställs vi på lördagen mot en av säsongens nykomlingar, nämligen Burnley. Våra motståndare lämnade PL för två säsonger sedan, men behövde alltså bara ett år på sig att komma tillbaka in i finrummet. Vi är nog många som inte såg speciellt mycket av Burnley under förra säsongen, det gjorde däremot Jamie Smith, ledare för podcasten No Nay Never och en av dem bakom nonaynever.net, @nonaynevernet på twitter. Här berättar han lite om hur det är i klubben i dagsläget: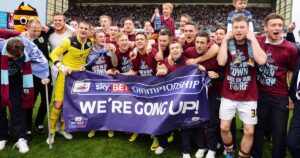 1. Welcome back to Premier League, how was the year in Championship? What has happened since we last saw you?
Thanks! It was sensational really – winning a league title is something that everyone involved with the club will remember for the rest of their careers. We started pretty slowly but a 23-match unbeaten run saw us win promotion with a game to spare.
The disappointment was we failed to keep up the momentum from promotion with a lack of signings – we've made four, one of which is a back-up goalkeeper – and fans got frustrated with the lack of new arrivals. Winning the title feels a lot time ago now.

2. Do you think you have a better chance of staying up this time?
Not really, not unless serious investment is made in the squad. The signing of Steven Defour could be pivotal but he's certainly a risk and it's odd to see a player like David Jones who has been so fantastic for us allowed to leave so cheaply.
There were also some signs in the loss to Swansea last week that we've not learned a lot from last time we were relegated. We didn't take advantage when we were on top in the game, then conceded a really soft goal. It was deja vu – I felt like I'd watched that match a dozen times two years ago. There should be more know-how in the squad this time, but I'm not positive.

3. How was your first game? Were you satisfied with the team performance?
It was okay – we played reasonably well but didn't create a great deal and I don't think we can have too many complaints with the defeat – Swansea were slightly better than us in my view.
Defensively we were fairly solid but Tom Heaton could maybe have done better with the goal than palming out a fairly comfortable header for a tap-in. There's a lot of work to do.

4. What are the strengths and weaknesses of your team?
Last season our strength was our defence but the gap from the Premier League to the Championship is a big one so it's too early to tell how they will cope in the top-flight.
Andre Gray is a player who will score plenty of goals with the right service, but he isn't going to get as many chances as he did last season so will need to make the most of his openings.
Our weakness is probably tactics as much as anything – we play 4-4-2 pretty much every week and that means we can be overrun in midfield against a team playing 4-2-3-1 or 4-3-3.

5. Who will be the key players for you this season?
We didn't score enough goals last season so Gray is going to be crucial. If he can get into double figures it will give us a decent chance, but we can't rely on him too heavily.
At the back, Michael Keane looked assured against Swansea and for my money he is a future England international, so it'll be interesting to see how he progresses in the defence.
We've made Defour our club record signing too so we're obviously expecting a lot from him.

6. How has your silly season been? Are you satisfied with your signings and do you think there are more players coming in?
Hopefully there will be at least three or four new players or I think we'll be well short – the squad as it stands isn't really any stronger than the one we had last season, which is unacceptable.
All four signings should do well – Defour has a strong pedigree, Jon Flanagan has a lot to prove, Johann Berg Gudmundsson seems a good fit for our system and Nick Pope is one for the future – but we lack quality and depth throughout the squad.
I'm sure fans of all clubs would say the same but three high-class signings could make all the difference for us this season.

7. What is your view of Liverpool, do you think we can make top four?
I saw the Arsenal game and Liverpool were frightening in attack with the precision and speed they moved the ball in the final third, so it's good news for us if Sadio Mane is injured.
There is obviously some vulnerability at the back – I don't rate Simon Mignolet at all – and the defence isn't particularly strong either. We should look to make the most of set pieces as I think that's a weakness in the Liverpool team too.
As for top four – I think there are a lot of teams in the running this year but those not playing in Europe could have an advantage. Liverpool will have to improve defensively to be top four