Namn: Marko Grujic
Utlånad till: Cardiff City i Championship
Statistik: 5 matcher. 0 mål, 0 assist, 2 gula kort.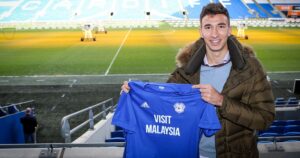 Supporterns åsikt:
Cardiff-supportern Oliver Cassidy(@Olliebluebirds) berättar här om hur det har varit att få in Marko Grujic i laget:

1. Tell us a bit about Cardiff´s season so far, to let us know the state of the club Grujic joined.
Cardiff City were tipped by the pundits for a mid-table finish in the league this year. We started off the season brilliant! We won all our matches in August and we have been no lower than 4th in the league. At Christmas time, we lost 4 matches in a row and we needed a few signings to ensure that we don't care away from the promotion picture. Grujic has come in at the right time and is the type of player we need if we want to get to the Premier League.

2. What role has Grujic played in for Cardiff?
Grujic has played in a holding midfield role which we have been missing since one of our best players Aron Gunnarsson got injured earlier in the season.

3. What can you tell us about the game´s Grujic has played so far, what has he brought to the team?
When he joined in mid January, Grujic was struggling with the physicality of the championship and was guilty of losing the ball too many times but for the past few games, results have been improving again and one of those reasons is because Grujic is adapting better to Championship football and was excellent against playoff chasing Middlesbrough last time out.
4. Do you think he has was it takes to compete for a place in the Liverpool squad next season? What does he need to improve?
If Emre Can is leaving Liverpool then I seriously think that Liverpool will be fine without him because Grujic is maturing into an excellent player and I can see him at least challenging for a starting spot next season. If there is one improvement Grujic needs to improve on, it is his discipline. A couple of times this season, Grujic has made needless challenges and was lucky not to get sent off against Leeds. Our manager doesn't take sending offs well and some players have been frozen out the squad due to poor discipline. Apart from that, I think Grujic has a great career ahead of him!